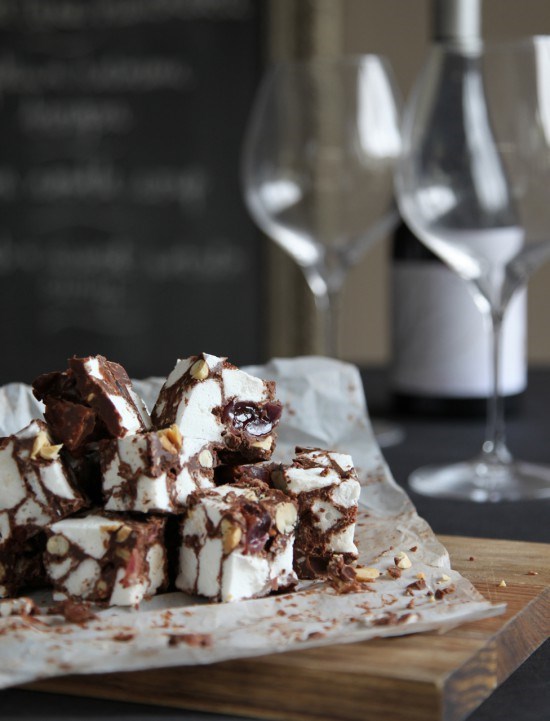 I had some leftover marshmallow from the toadstool cake I made Erika for her birthday (piccies on Insty), so thought I would make some rocky road. Easily the most addictive and moreish treat — even hubby, who doesn't like overly sweet things, gobbled it up. So here's the recipe:

250g chocolate (I had some milk buds to finish off, but the majority was dark)
50g butter
1 pkt Natural Confectionary Company raspberry jellies
30g shredded coconut
handful of raw peanuts
approximately 1/3 of the marshmallow recipe from 'The Artisan Marshmallow'

Spray a tray or loaf tin with oil and line with baking paper on the bottom and two sides.
Toast coconut and peanuts in a hot oven and allow to cool.
Chop the raspberry jellies in half or quarters.
Melt butter and chocolate together in a double-boiler on the stove, and remove when just combined — you don't want the mixture getting too hot or it will melt your marshmallow.
Slice your marshmallow into approximately 1.5cm chunks, and toss with the toasted shredded coconut and peanuts (this will adhere to the sticky sides of your marshmallow).
Add all ingredients to your chocolate mixture, stir to combine.
Press into your prepared tin, cover and place in the refrigerator for about 2 hours (it's hard to wait that long, but you really should).
Remove from the tin, and slice into big chunks with a large, sharp knife.

Voila! Also makes a great Christmas gift!